LOOKING INWARD
It has been another great year for community-led housing in the region, and as 2019 comes to an end we reflect on the highs and lows it contains for us and for local projects…….
In January we were very sorry to say goodbye to John Mather, called to higher things at Homes England. John was EMCLH's first and for a long time, only staff member and over his seven years here has been instrumental in putting community-led housing on the map with completed schemes in Wilsford, Youlgreave and Pinchbeck.
None of this would have been possible without the leadership of the EMCLH Board from Rt Revd Dr Tim Ellis, who stepped down at the December meeting when his term of office ended (Tim's farewell message can be read here on the EMCLH website in the previous news item and the photo below was taken as a momento of that final meeting.) A huge 'thank you' to them both for all their energy and support.
Keeping in contact with John in his new role has also been immensely valuable in our assistance to local projects to make use of the new funds that have been obtained through the Community Housing Fund.
And the year has ended with EMCLH securing two years 'Hub funding' from the national Community Led Homes body to extend its role as the regional 'CLH Hub'.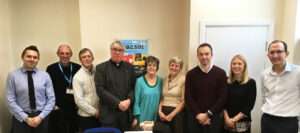 2019 PROJECT UPDATE AND LOOKING FORWARD
We are proud of the additional resources we have helped bring into the region this year, assisting 10 groups to secure over £600,000 from the Community Housing Fund.
Details of current CLH schemes can be summarised below:
Notts Cohousing
The cohousing project has submitted its Community Housing Fund application and is hoping that support from Homes England will fund some initial feasibility assessments of a potential site in Nottingham that is currently owned by the City Council.
North Somercotes
The Parish Council is proceeding with its plans to establish a new CLT in the area and is engaging EMCLH to assist with this registration and with subsequent skills development, following financial support coming from East Lindsey District Council.
Hothouse Cohousing
The cohousing project is in the process of confirming its negotiations with its prospective housing association partner for building at least 11 properties on a development site in Belper. EMCLH has been engaged to provide advice and advocacy with this and associated elements of the project.
Sincil CLT
The project to renovate empty homes in the Sincil Bank area of Lincoln is in the process of engaging surveyors to undertake detailed property inspections on the first properties identified by the City Council. EMCLH has been appointed to help project manage this and the feasibility costings through to end-March 2020.
Birchwood CLT
The Scheme Architects appointed by Birchwood CLT in Lincoln are engaged in the initial design of the potential bungalows, houses and access road. EMCLH has been appointed to project manage this phase and all the feasibility costings through to end-March 2020.
Afro Innovation, Leicester
Potential sites or suitable existing buildings are being sought as the initial property that this CLT could use for homeless and refugee households.
Kettering Mind
The Pennels Two project to create six 'independent living' flats adjacent to Mind's premises in Kettering is ready to resubmit its planning application (a previous approval has expired). EMCLH is undertaking the project management of the next phase to complete subsequent technical plans and financial costings through to end-March 2020.
Caistor CLT
The CLT body is in the process of confirming use of an ex-depot site close to the town centre with the local housing association that owns the land. EMCLH is to be engaged to provide advice and advocacy with this and associated elements of the project.
Age UK Lindsey, Horncastle
Work is in hand for Age UK Lindsey's substantial plans to create new offices, community facilities, activity spaces, a café, retail premises and 12 new flats on site it owns close to the town centre. A series of consultations with local stakeholders and the local community has just been completed. EMCLH is providing support and advice on how the residential elements of the project could engage future residents in the management of the proposed properties.
Brookenby CLT
The CLT is under way with Community Homes Fund finances to cover pre-construction assessments and studies of re-modelling ex-forces premises into four flats for local households. The scheme architect is compiling assessments of the proposed works and a suitable Quantity Survey is soon to be appointed..
Wirksworth CLT
The CLT is in the process of negotiating some initial financial support to look at building a new exemplar dwelling to 'PassivHaus' standards, and to consider a local retrofit-project to achieve a similar standard to an existing property. The CLT is looking at where it would wish to be 'in 10 years or so' and has asked EMCLH for some support to plan for such future works.
Community of Grace, Leicester
The existing charity is keen to investigate opportunities to develop a supportive cohousing neighbourhood in the greater Leicester area. Initial grant funds are being sought to consider the most appropriate community structure for this, and to commence a thorough property search.
Many congratulations to all these projects in pushing their plans forward. We look forward to another year of helping them and similar groups to move closer to the realisation of their ambitions.
Martin, Debbie & Julie (EMCLH)